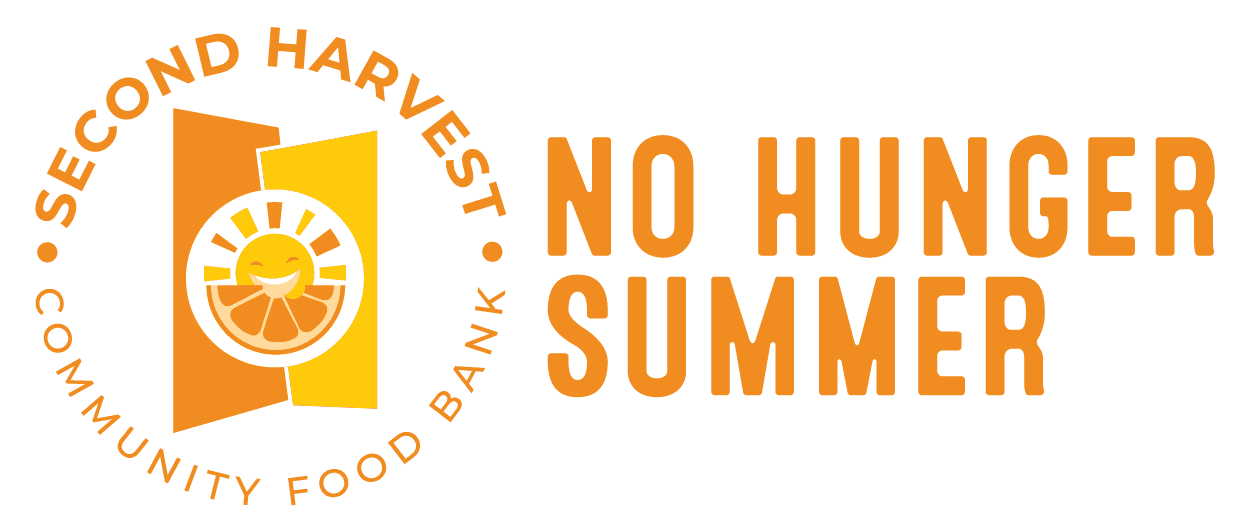 No Hunger Summer: FREE Meals for Kids
Every weekday, kids across No Hunger Summer cafe sites receive a nutritious lunch in a positive, encouraging environment at no charge. With the help of volunteers and community organizations we are able to continue to grow this program. Because summer should be a fun time, and not a time for hunger. Read more to participate or get involved.
At Second Harvest Community Food Bank, we know that summer break takes away the opportunity for kids that receive free or reduced-price lunches to have access to nutritious foods. The No Hunger Summer feeding program provides free lunches to children 18 and under five days a week during the summer.
** Equal Opportunity Provider**
2023 No Hunger Summer Site Locations
| COUNTY | NAME | ADDRESS | HOURS | DATES |
| --- | --- | --- | --- | --- |
| Atchison KS County | Salvation Army | 926 Commercial St, Atchison, KS | TBD | TBD |
| Brown County | Brown County Sheriff's Office | 709 Utah, Hiawatha, KS | M-F 11:30a-1p | June 1 - July 28 |
| Brown County | Horton Library | 809 1st Avenue E, Horton, KS | M-F 11:30am-12:30pm | May 30- Aug 11 |
| Brown County | Kickapoo Boys & Girls Club of America | 884 112th Dr, Horton, KS | M-F 11:30am-12:30pm | May 30- July 21 |
| Brown County | Morrill Library | 431 Oregon, Hiawatha, KS | Snack Tu and Th 10:30-11:30; Lunch F 10:30am-1:00pm | May 26-Aug 11 |
| Buchanan County | Bartlett Center | 409 S. 18th, St. Joseph, MO | M-F 12p-1p | June 19- Aug 18 |
| Buchanan County | Brittany Village Apartments | 1601 N. 36th, St. Joseph, MO | M-F 12p-1p | June 19- Aug 18 |
| Buchanan County | Brookdale Student Ministry Building | 3015 Felix St, St. Joseph, MO | M-F 12p-1p | June 19- Aug 18 |
| Buchanan County | Copeland Baptist Church | 2009 Walnut St, St. Joseph, MO | M-F 12p-1p | July 5- Aug 18 |
| Buchanan County | Cottonwood Creek Apt | 3601 Gene Field Road | M-F 12p-1p | June 19- Aug 18 |
| Buchanan County | Genefield Apartments | 3515 Genefield Rd, St. Joseph, MO | M-F 12p-1p | June 19- Aug 18 |
| Buchanan County | Lake Contrary | 5715 Lakefront Lane, St. Joseph, MO | M-F 12p-1p | June 19- Aug 18 |
| Buchanan County | Northwood Terrace | 1203 Northwood Drive | M-F 12p-1p | June 19-Aug 18 |
| Buchanan County | Oakridge Apartments | 1205 Angelique St, St. Joseph, MO | M-F 12p-1p | June 19- Aug 18 |
| Buchanan County | Pleasant Heights Apartments | 2902 S. 36th, St. Joseph, MO | M-F 12p-1p | June 19- Aug 18 |
| Buchanan County | Sojourn Church | 1825 Savannah Ave, St. Joseph, MO | M-F 11:20am-12:30pm | June 6- Aug 19 |
| Buchanan County | The Ridge | 2121 S. Riverside Rd, St. Joseph, MO | M-F 12p-1p | June 19- Aug 18 |
| Buchanan County | YWCA | 323 N. 8th, St. Joseph, MO | M-F 1p-2p | June 19- Aug 18 |
| Doniphan County | Elwood Library | 410 N 9th, Elwood, KS | M-F 4p-4:30p | May 22 - Aug 11 |
| Doniphan County | Elwood Park | N 7th & Massachusetts | M-F 12p-1p | May 22-Aug 11 |
| Doniphan County | Iowa Tribe | 3345 B Thrasher Rd, White Cloud, KS | M-F Lunch 12pm-1pm; Snack 4:15pm-5pm | May 22- Aug 11 |